Distance (m)

30 m

30 – 40 m

40 – 50 m

50 – 60m

Width of the Road (m)

1 Lane Road

4 – 5 m

ø 600 mm




◘ 450×600 mm




R: 1500 mm

ø 600 mm




◘ 450×600 mm




R: 2200 mm

ø 800 mm




◘ 600×800 mm




R: 3000 mm

ø 800 mm




◘ 600×800 mm




R: 300 mm

2 Lane Road


6 m

ø 800 mm




◘ 600×800 mm




R: 2200 mm

ø 800 mm




◘ 600×800 mm




R: 2200 mm

ø 1000 mm




R: 3000 mm

ø 1000 mm




R: 3000 mm

7 m

ø 1000 mm




R: 2200 mm

ø 600 mm




R: 2200 mm

ø 1000 mm




R: 3000 mm

ø 1000 mm




R: 3000 mm
ø = Round Mirror Size (mm)
◘ = Rectangular Mirror Size (mm)
R = Radius (mm)
Resistance to Wind Load:
Stainless Steel Convex Mirrors sample mounted horizontally with pole brackets.
Torque moment of the fixing screws: 110 Nm. Sample loaded with 60 Kg for 5 min.
Results: No variations of the position of the sample. No cracks.
Coefficient of Reflection:
Coefficient of reflection measured through integrating sphere: 64,2%
Fields of Vision:
Field of vision measured with the observation axis that passes perpendicular through the center of the sample at a distance of 4 meters: 60°.
Source: TUV Rheinland Italia srl – Product Report
Comparative Tests* between different Convex Mirrors materials

(Exposition of Mirrors for 4 years in different environments)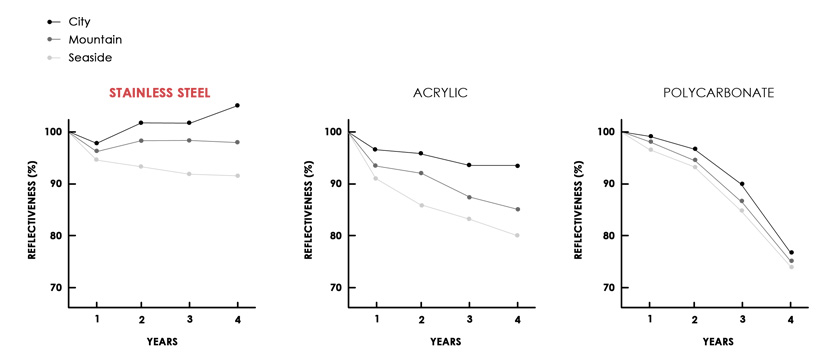 * Test Results are to be intended just as reference
Source: Japanese's "National Road Sign & Display Association"
Monday – Friday 8:30 – 12:30 | 13:30 – 17:30
Monday – Friday 8:30 – 12:30 | 13:30 – 17:30